Sedona Wedding Tea - 
Sedona Arizona's Full-Leaf Tea Store 

Perfect for a wedding day… How about chocolate dipped strawberry tea? BLACK TEA from Sri Lanka blended with rose petals, natural chocolate flavor, natural strawberry flavor, cocoa nibs, dark chocolate chips, and strawberries.  Enjoy rich dark chocolate and summer strawberry, without the calories or fat.
AVAILABLE AS:
1 LB
BulkPack,   3 OZ Package,   4 OZ Tin,   1 OZ TastingSample
Package size is 3 ounces of full leaf tea, which yields approximately 37-38 first cups. Tin size is 4 ounces which yields about 50 first cups. Bulk one pound is available for about 200 cups.  Tasting sample is 1 ounce for about 10-12 cups.

BREWING:
Full teaspoon for every 8 oz of boiling 212°F fresh water.  Steep for 3-5 minutes or longer to desired taste.  A second or third infusion is possible by increasing stee
p time one minute each time.
 Trailhead Tea:   Sedona & Northern Arizona's Full-Leaf Tea Department Store 

We provide custom designed packaging of your favorite Trailhead Tea to use for your wedding or other special event: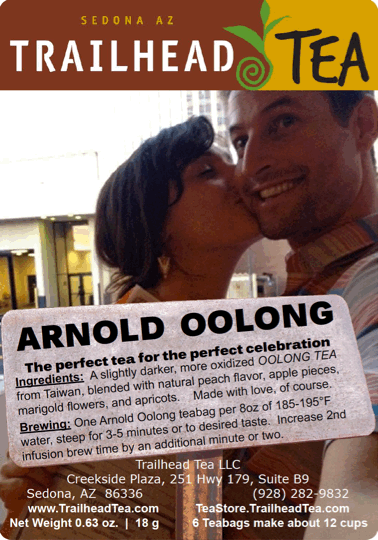 Here are a couple of our favorite links to Sedona wedding planners or venues: