In October 2016, Dan & Eileen pose under the famous Da Hong Pao "mother-bushes" still growing from the cracks in the rocks . This is one of the most visited sites in the tea world, since it's the location of the Big Red Robe tea's legend (a short version can be found below).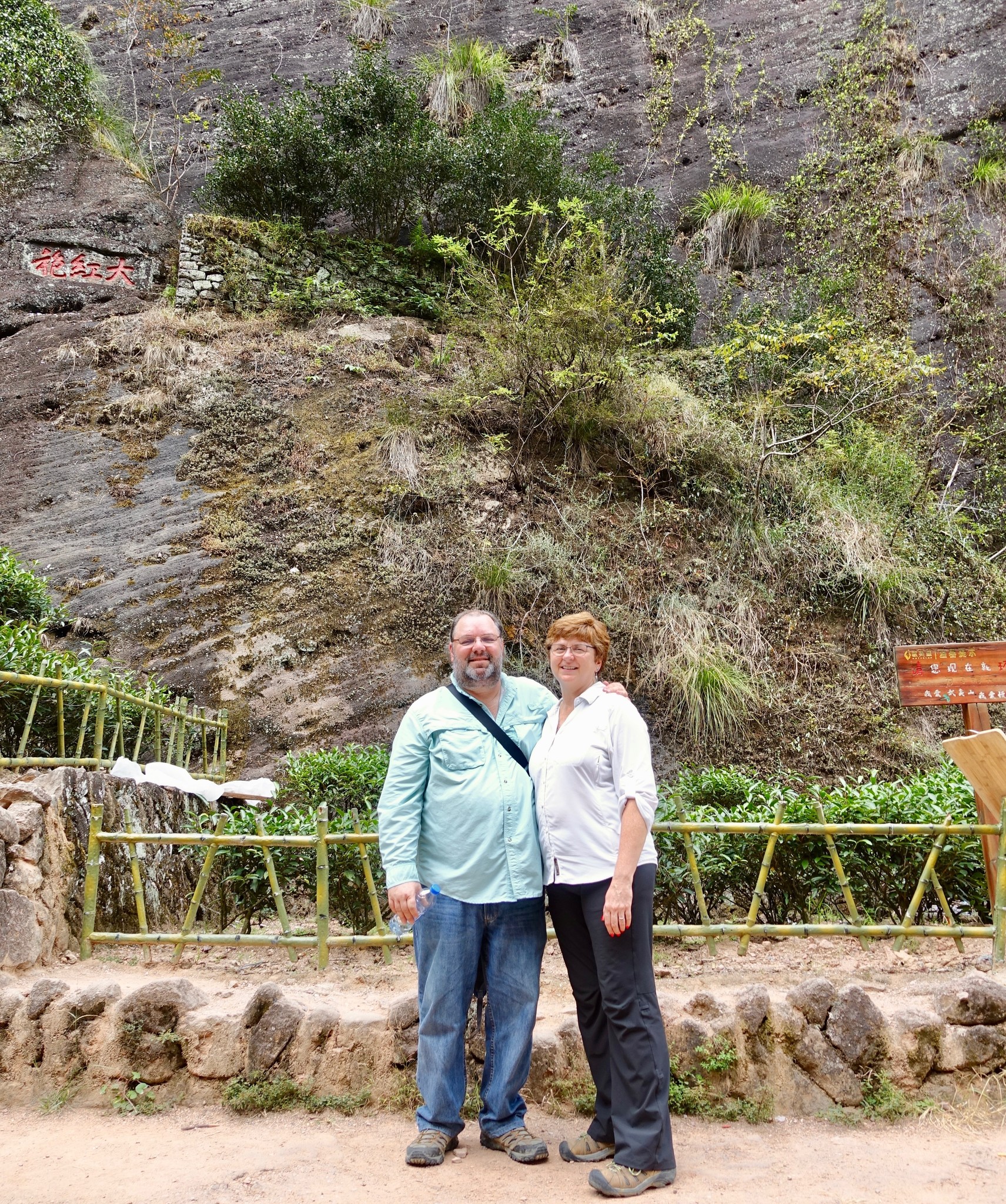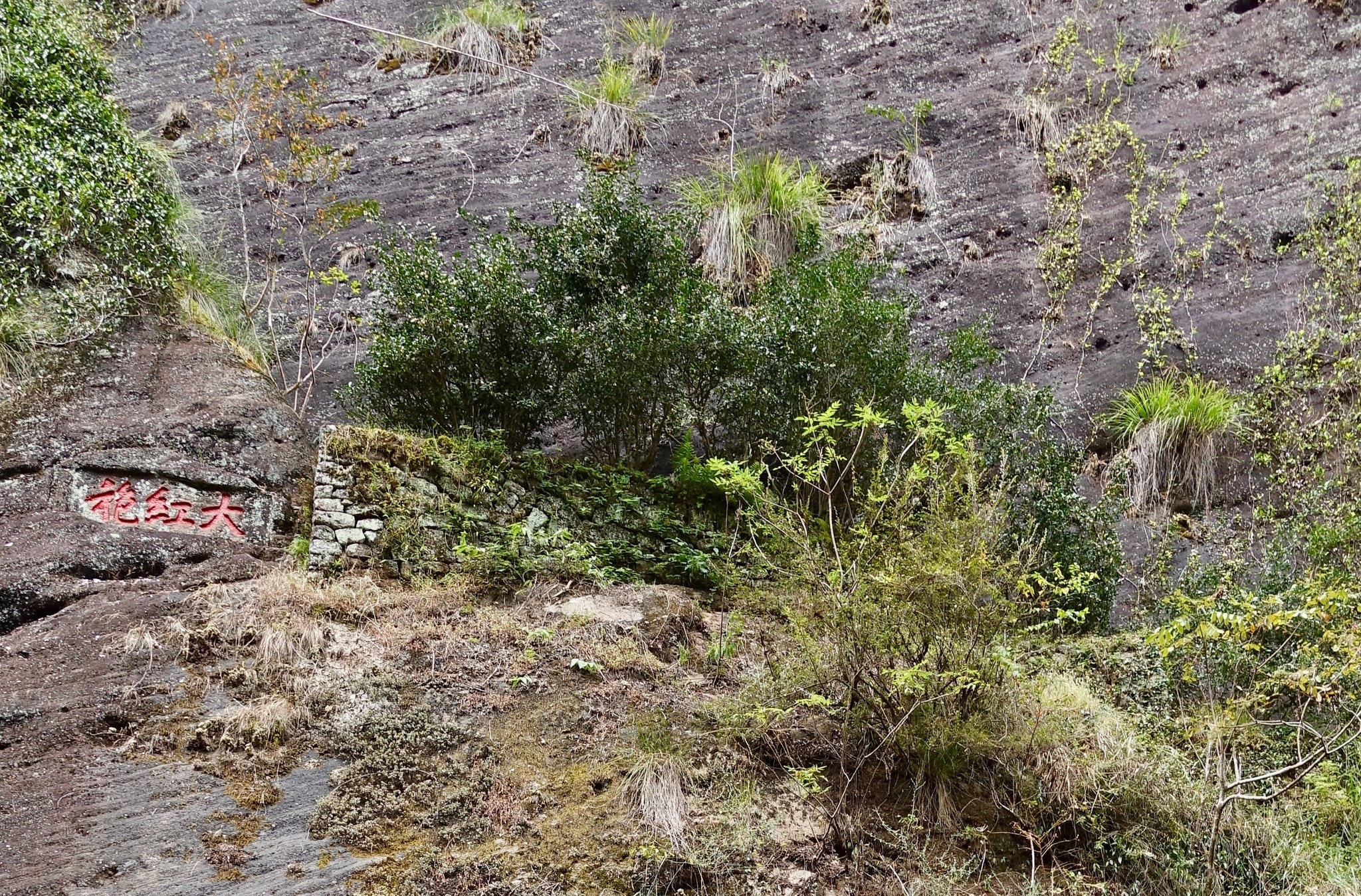 There are six tea bushes that are no longer picked (that is a story to itself). The four on the left are over 400 years old, the two on the right a little younger. It is said that all "true and quality" Wuyi Da Hong Pao grown today are cloned descendants of these original mother-bushes, just like those seen behind us and found throughout the tea garden.

 Wuyi Da Hong Pao Oolong Tea - Sedona Arizona's Full-Leaf Tea Store 
One of the five famous teas (varietals) from in the Wuyi Mountain Scenic Preserve of far north Fujian Province (
bordering Jiangxi Province)
of south eastern China, where the most desirable "Wu Long, Wu Yi Yan Cha" rock oolong teas are produced. The
picturesque 
mountain cliffs, 
fertile Nine-Bend River, 
and mineral-rich rocky terrain are the most critical contributions to the character of the tea. These oolongs are famous for their floral and "rock, bone, stone" signature minerality taste and mouth feel. The leaves are usually heavily roasted to produce the r
enown aroma.
Like all historically famous teas in China, the specifics of the growing locations are meticulously detailed, for quality, rarity, and price.
Unlike many other tea-producing areas in China, the tea trees here are not cultivated in the plantation style. They are allowed to grow naturally wild in spacious groves (making them more difficult to pick), ranging in age from a few years old to well more than 100 years old, and elevations around 1000-1700 feet.  Although not necessarily certified organic, this area is strictly protected by the government, so absolutely no chemicals or pesticides are used.
Our
Da HONG PAO
 (aka

Big Red Robe
) is a fairly low production/small batch
OOLONG
acquired direct from farmer located in the Zheng Yan Circle Mountain area (which translates to "True Cliff", and is the most core location in Wuyishan) that extends only about 18 square miles. 
Harvested May 2019 from
within the Zheng Yan Circle
. 
Our Da Hong Gao has been medium roasted three times (approx 8 hours each), is best known for a 
brown sugar & dark molasses richness , woodiness, slight nectarine fruit, very light florals, the famous Wuyi-
minerality
, and with a very long-lasting aftertaste. It's one of those teas, that if a novice tries a few times, they will easily remember forever. The uniqueness stands our from the rest of many oolongs.
AVAILABLE AS:
1
 OZ Package,   2
 OZ PACKAGE
Package size is 1 ounce of full leaf tea, which yields approximately 12 to 13 first cups. 
2 ounces package which yields about 25 first cups.
BREWING:
One teaspoon (about 3g) for every 8 oz (240ml) of 195°F (
90°C) 
fresh water.
  Steep for 1 minute or slightly longer to desired taste.  Five or more infusions are possible by increasing stee
p time 30 seconds to one minute each time.
 Trailhead Tea:   Sedona & Northern Arizona's Full-Leaf Tea Department Store 
Want to know more about the legend of Big Red Robe?
The most famous story associated with Yan Cha (Wuyi Rock Tea) is the legend
of a student (named Ding Xian, which records show he did exist) who was on his way to the national exam and got sick in Wu Yi Shan. He took shelter at the Tian Xin Yong Le Temple that yes, still exists today.
The monks in the temple nourished him back to health so he could continue to the capital for the national exam.
The student eventually won first place in the national exam, which immediately placed him among the nation's top elites.
When he went back to the temple to thank the monks, he wore a red robe, a garment to show his new status.
The monks told him that it was the teas they gave him from the back of the temple that revived him.
To show his gratitude, the student went to the tea trees, took off his red robe and put it around them.
This tribute gave those tea trees not only fame, but also the name Da Hong Pao, Great Red Robe. This story is so famous, the name "Da Hong Pao" is very commonly (but mistakenly) used synonymously with all Yan Cha. There are many other famous oolongs, some here on our store.
As widespread as this story is and the many variations of it, there's actually very little record indicating its complete truth other than the main character of the story and the temple.
Nevertheless, Wu Yi tea does have a very long history of being a tribute tea, and since the Tang Dynasty (618AD – 907AD) people have been raving about tea produced in this region.